We want to hear from you — good, bad, just not ugly. Please share thoughts, insights, discrepancies, recollections — and how's your Tom's Trivia win-loss percentage coming? Post to our website at magazine.uconn.edu, email lisa.stiepock@uconn.edu, or send by regular mail to UConn Magazine Letters, 34 N. Eagleville Rd., Storrs, CT 06268-3144.
Here's a sampling of feedback from our last issue.
I was in the band when it first adapted the Big 10 style. Will remember forever marching down the field spelling UCONN.
Charlie Lipson '67 (BUS), Palm Desert, California, via our website
The Camino
➼ The story and photos on walking the Camino de Santiago provides a real feel of being a part of this unique experience. Three of us brothers, all UConn grads, made the same Sarria to Santiago walk in 2019.
The people we met, the old world paths and buildings, the bonding we did as brothers, all seemed to come from a special energy and adventure that the Camino provided. Experiencing the Camino as a UConn student will provide a valuable perspective that will last a lifetime. Buen Camino!
Joseph Augustyn '69 (ENG), Vernon, Connecticut; Robert Augustyn '70 (CLAS), Westport, Connecticut; John Augustyn '79 (ENG), Guilford, Connecticut, via email
Can Truth Triumph
➼ Thank you for your efforts on behalf of Truth. I will be looking for your book. I hope that you can make a difference.
Ronald Newlin '71 (SSW), Saukville, Wisconsin, via our website
➼ From your fever dream to God's ear … or however that saying goes. Thanks for this work and continuing to fight the good fight — particularly since it really shouldn't be an actual fight.
Stacy Pearson, Phoenix, Arizona, via our website
➼ The point of view expressed by a journalism professor that we are living in a "post-truth era" due to "anti vaxxers, flat earthers, and climate change deniers," not only paints those weary of injecting themselves with an unknown medicine with the same broad brush that actual science deniers are painted with, but also embodies the exact "anti-truth" sentiment the professor is claiming to have so much disdain for.
Anthony Miele '11 (CAHNR), via email
➼ I was appalled at [this story's] extreme left-wing bias. I have fond memories of UConn, but it saddens me to see that the school has taken a sharp left turn, and continues to fan hatred of a great president, Donald Trump.
Amy Lamborn '84 (CLAS), El Paso, Texas, via email
➼ I want to thank you for your integrity as a journalist and for standing up against some of the incredible misinformation/disinformation that continues to pollute the mindscape.
Thomas Terry, professor 1969–2003, Storrs, Connecticut, via email
➼ The article left me very disappointed due to its obvious liberal bias regarding the culture of disinformation. Are there no examples where disinformation was propagated by liberal individuals and politicians? Of course there are. Unfortunately, no such examples were offered in this article about "truth." We need journalists and other media to question everything without bias to seek the real truth.
Bob Kroll, '96 MBA, Pennsburg, Pennsylvania, via email
➼ We can only hope and pray that education will win out over disinformation. It will be difficult as we see a U.S. representative from New York who is unable to tell the truth about anything being accepted by his fellow party members.
Marvin Horwitz '51 (CLAS), via our website
➼ Carolee DeVito '74 (PHARM), Terry (Amodeo) Friedman '72 (CLAS) and I met on the Storrs campus in the early 1970s. "Care" and I lived in Beard B our sophomore year and in Hale Hall junior and senior years, where we connected with Terry. Care and Terry were RAs in the newly opened dorm. We recall the sounds and smells of guitars strumming, bread baking, and apple slices strung out to dry in Care's dorm room. With long hair and bellbottoms, we very much remember being hippies!
After graduation, we turned to careers: Care a college professor, Terry a real estate broker, and I was a public school library media specialist. While Terry and I remained in Connecticut, Care's career took her to Florida. We connected, though, in the summers at Care's beautiful lakefront home in Vermont. And now that Care lives there full time, our get-togethers are more frequent. It's amazing to us that we share a friendship that spans the decades. Indeed, we met in the '70s and now we're in our 70s!
Betty Ann Russ '73 (ED), North Stonington, Connecticut, via email
➼ I was a freshman nursing student and met my husband Bill Hacker '52 (ED), '57 MA, a grad student who lived in Manchester Hall, on a blind date. He vaguely remembered my name but called for a second date and soon we were going out regularly, became pinned my sophomore year, and married by my junior year. We have been married for 64 wonderful years. We are proud Huskies.
Jean Krodel Hacker '61 (NUR), Sun City West, Arizona, via our website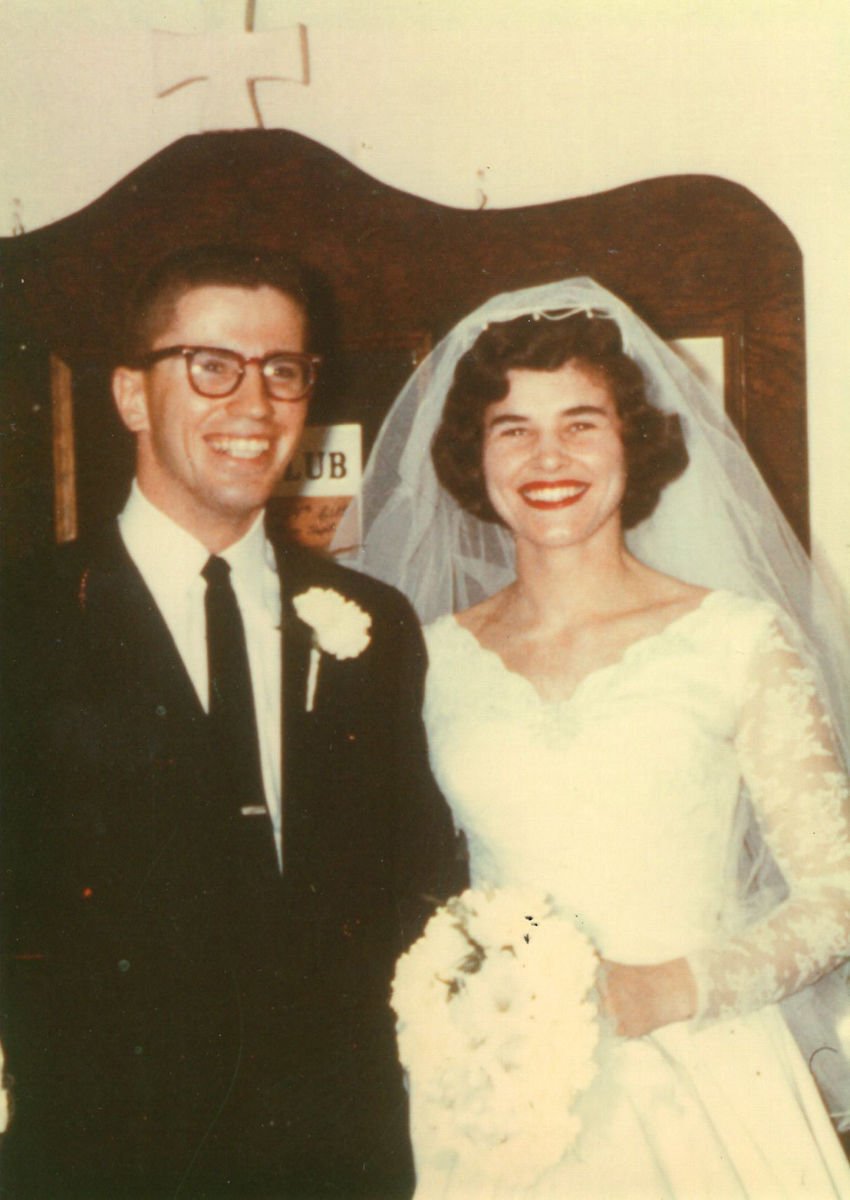 ➼ Both Paul Perregaux '58 (CLAS), '66 MA and I were intrigued and so impressed with the UConn Magazine feature about the love everlasting of various UConn couples. It was quite a wonderful testimony in your February LOVE issue.
We, also, have a university couple "LOVE" story, dating back to 1958. In the spring of that year, we met at a campus bloodmobile activity where Paul and his Alpha Phi Omega members were volunteers. Our relationship grew quickly over the next few months. Paul graduated (1958), went to Army Officers' training, and we were married that December, 1958! The Citrus County Chronicle article describes our story.
In addition, Paul was awarded the Distinguished Alumni Award in 2002, and continues to be involved in alumni activities — i.e. the Alumni Reunion annually in Sarasota, FL. I graduated in 1963 as a University Scholar and am proud to continue my support of our great university!
Shirley Dimmock Perregaux '63 (SFA), via postal mail
Snap!
➼ Your drone shot of Mirror Lake brought back memories of another time and another view of that body of water. On WHUS in 1958 we were doing a marathon fundraiser for the Community Chest and I vowed to swim ML for a certain pledge. I went across the lake with a canoe close by. All I remember is the bottom was full of fallen leaves that made the takeoff rather squishy.
Robert Gregory '59 (SFA, CLAS), Milford, Connecticut, via email
#32
➼ Swin Cash inspired so many others on and off the court. General Douglas MacArthur referred to the "long grey line…." of West Point, but Huskies have the long blue line led by the students of the past who excelled on and off the courts and fields and in their classrooms and labs, now inspiring generation after generation of people bettering the world in big and small ways.
Ed Marth, former exec. director AAUP, St. Charles, Illinois, via our website
Road Eats
➼ Glad he knows about food safety! Bon appetit Geno!
Linda Trombly Drake '69 (CLAS), '80 MS, via Facebook
During the first weekend of May, UConn bestowed 7,707 degrees upon its newest alums, the Class of 2023.